BAGS AND BRIEFCASES s motivem MOTÝL
Our selection includes a wide range of school backpacks for pupils and students, in a variety of fashion designs and themes of well-known movie characters. All our backpacks have an ergonomically shaped, cushioned back system which helps your child to maintain the correct body posture. Backpacks have padded shoulder straps, chest fastening straps and reflective elements which facilitate the safety of the child when carrying the backpack.
Order by:
Shown 1–2 z 2 items
Dimensions: 330 x 310 x 180 mm Volume: 20 l Capacity: 8 kg Weight: ‹ 1100 g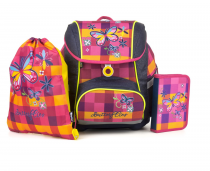 School set for first-grader with Butterfly theme. The set includes a Premium Flexi school bag, a gym bag and an unfilled one-story pencil case.
Zobrazit produktů na stránku: